Caring for your Waterproof Gear
It is important to wash and maintain your waterproof gear to keep the durable water repellent (DWR) finish properties. This will help prevent your garments becoming 'wetted out' as shown below. Over time things like dirt, oil and even regular laundry detergents will damage the DWR finish. Reproofing your gear will allow water to bead off and not be absorbed into the garment.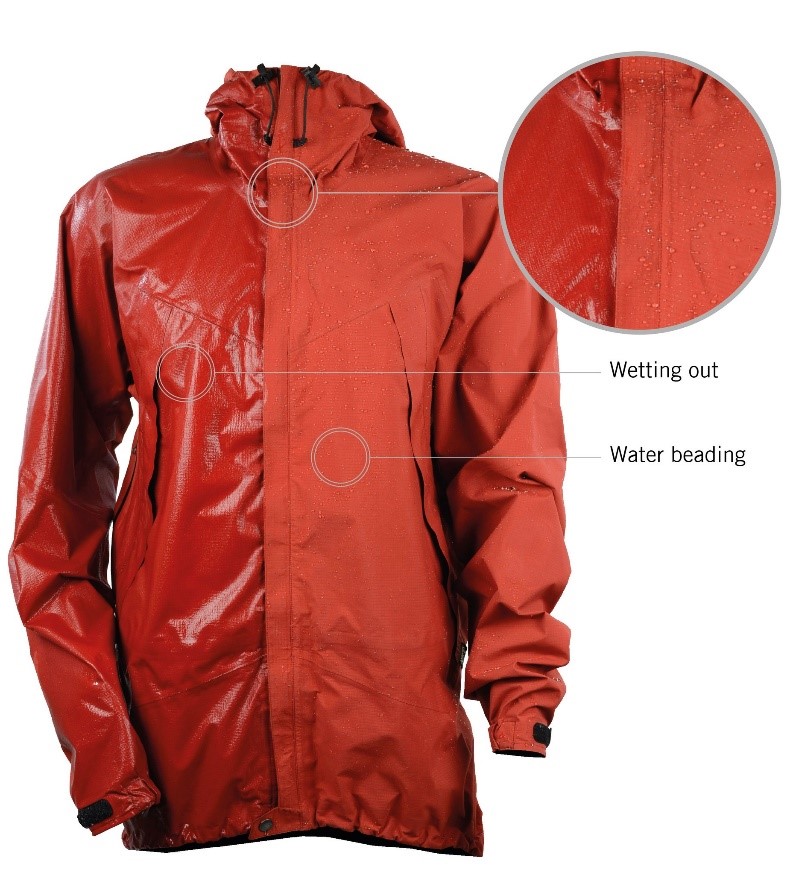 Well maintained kit performs better and lasts longer. Not only does that mean you'll get to enjoy the outdoors more, you're also likely to reduce the environmental impact of your clothing by keeping it out of landfill for longer.
Grangers offer a great range reproofing products that can help restore and protect your waterproof gear. Grangers wash-in products are formulated to work at just 30°C, reducing electricity usage.
Wash-in formula adds durable water and stain repellency.
Spray leave-in treatment for durable water repellency & improved breathability.
2 in 1 formula to clean and reproof outdoor gear in one wash cycle.
Washing & Caring for Down
It's important to take care of your down so it keeps you warm and dry. Normal detergents shouldn't be used on down articles as they can hinder the performance by leaving various chemical residues behind and reducing the garment's ability to insulate or repel water. Down Wash is a powerful, yet gentle, cleaner specifically formulated to clean all your down and synthetic down-filled articles without damaging or inhibiting insulation or hydrophobic properties. Grangers Down wash will remove dirt and odours while improving loft and restoring water repellency.
Hot tip: Through in 2-3 tennis balls when washing down gear to prevent dump clumping.
Down Wash Features:
Specially formulated to clean all technical fabrics and clothing
Removes dirt
Neutralises odours
Protects any remaining water-repellent finish
Restores loft
Bluesign® approved
Active Performance Wash
Grangers Active Wash is designed to enhance the performance qualities of your active wear and hiking clothes. Unlike regular laundry products, Active Wash provides a boost to your garment's performance features, including their ability to wick away moisture. Active Wash is a high-performance wash-in cleaner designed to remove dirt, sweat, and odors from all sportswear. Formulated to thoroughly clean and restore all sports kit instead of masking dirt and odors.
Features:
Removes dirt and odours
Reduces kit drying times
Maximises wicking performance
Effective at low wash temperatures
---