Date Posted: 8 October 2021
What is Retort Packaging?
A retort pouch or retortable pouch is a type of food packaging made from a laminate of flexible plastic and metal foils. It is specially designed to withstand high temperatures used to sterilise the meal contents and prolong shelf life. A meal is first prepared then packaged and sealed in a retort pouch. The pouch is then heated to 116-121 °C for several minutes under high pressure inside a retort or autoclave machine. The food inside is cooked in a similar way to pressure cooking. This cooking process kills all commonly occurring microorganisms, preventing it from spoiling.
In effect, the retort cooking process increases the aseptic nature of the product, decreasing food spoilage through stopping or limiting microorganism growth. This allows pre-prepared meals to stay fresh for longer. Retort packaging is increasingly used as an alternative to traditional industrial canning methods, reducing weight and bulk. Retort packaged meals can be eaten cold as they are already cooked or can be heated up by submersing in hot water or through the use of a flameless heater pack.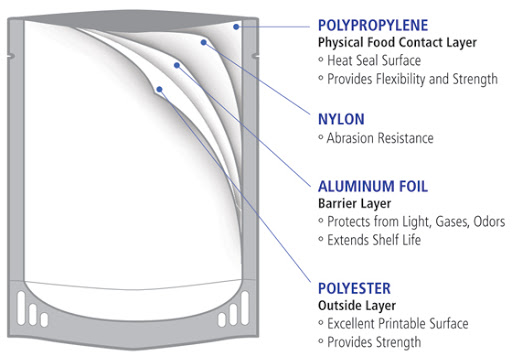 What are the benefits of Retort Packaging?
Retains nutritional benefits and natural flavours
Ready in eat cold or heat up in just minutes
No mess (heat and eat from the pouch!)
Long shelf-life
No refrigeration required
What is the difference between Retort Packaged Meals and Freeze Dried Meals?
Retort Packaged Meals

Freeze Dried Meals

Retains natural flavours

Retains nutritional value

Shelf life of 2 years

Ready to eat cold

2-3 minutes to heat

Heavy - 1 meal approx. 250g

Looses some flavour

Retains nutritional value

Shelf life of 2 years

Required boil time to cook

Ready in 10 minutes

Lightweight - 1 meal approx. 175g


---