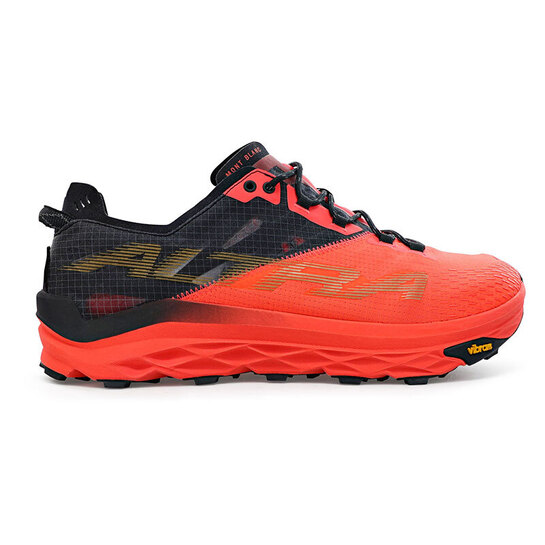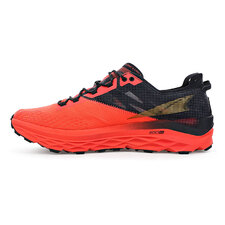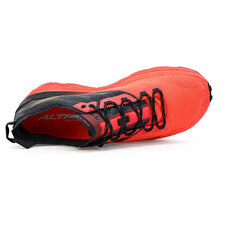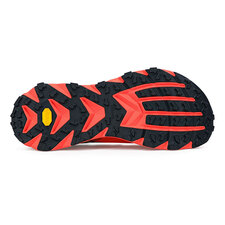 Altra Men's Mont Blanc Running Shoes Coral/Black Size 9
---
$206.95
In Stock - Ships FREE
RRP $319.95
35% OFF
---
Altra have used new and innovative technology on the Mount Blanc shoe to conserve energy and enhance performance on your next trail run. From the road to the trail these Altra speed shoes are lightweight adn race-ready.
---
In Stock
---
Altra EGO MAX midsole
Vibram LiteBase outsole
Ultralight, hyper-breathable upper
Stack height: 30 mm
Weight: 280g
| | |
| --- | --- |
| SKU | AL0A547K602 |
| Brand | Altra |
| Shipping Weight | 0.7810kg |
| Shipping Width | 0.050m |
| Shipping Length | 0.050m |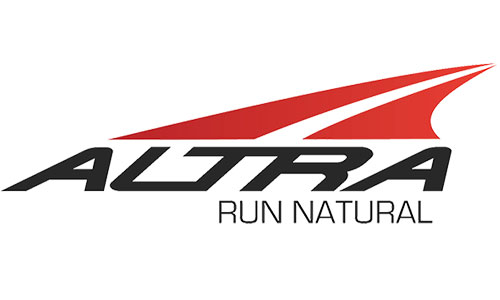 Altra
Buy Altra Shoes Online
A relatively young up-and-coming brand in the world of running shoes, Altra Australia has quickly become a popular choice among outdoor enthusiasts around the world. The brand is known for its Altra running shoes that are designed to allow human toes and feet to function naturally.
Both men and women can find a pair of Altra shoes here at Sherpa. We offer a wide variety of options that will suit your preferences while ensuring your feet stay happy on long trails.
Foot-healthy Alternative to the Common Running Shoes
Altra hiking shoes are a healthier choice compared to the conventional athletic shoes commonly seen today. This is because their footwear works to nurture the feet and toes of its user by providing them a healthy yet natural toe splay environment.
That doesn't mean their shoes are unstable for use outdoors. In fact, Altra stability shoes are quite popular because of the added base of support that comes with the brand's footwear.
Additionally, many design features of Altra walking shoes can correct and even prevent common lower leg issues such as hammertoes, bunions, plantar fasciitis, ingrown toenails, neuromas, and more.
Enhanced Toe Alignment for Reduced Risk of Injuries
One of the most vital key designs of both Altra shoes for men and Altra shoes for women is their built-in wide toe box. Compared to standard running shoes that have a tapering design that leads to a narrower end, the toe box of Altra support shoes becomes wider as they reach this point.
Such a feature is especially useful since the added width at the end means your toes don't have to stay cramped. It allows hikers to use toe spacers that help keep all of their toes aligned to prevent injuries. The toe box design also makes Altra shoes for wide feet a possibility.
Uses Patented Zero Drop Technology
Another crucial design feature of Altra training shoes is that their footwear incorporates their patented Zero Drop technology. This term is used by the brand when talking about the support base that comes with their shoes.
This basically means that Altra Zero Drop running shoes have no toe spring or heel elevation. Having flat soles in walking shoes can give hikers and trekkers the best support base for their feet. The Zero Drop technology also promotes natural arch support.
Highly Flexible Built-in Soles
Finally, Altra waterproof shoes are highly flexible thanks to the quality of the soles they have. Compared to other footwear, the soles of the brand's shoes are thicker and stiffer, yet they remain flexible enough even under pressure.
This added flexibility can prevent the effects of rigid soles that can lead to less manoeuvrable feet.
Get Your Altra Shoes Today
At Sherpa, we believe in providing high-quality outdoor gear that is practical for hikers, trekkers, and climbers. That's why we've decided to offer Altra running shoes in our shop because of the design features the brand's footwear provides.
If you've ever made a Google search on "Altra shoes near me," then you've come to the right place. Browse our selection of Altra trail shoes in Australia and purchase a pair today.
Reviews
---
We Also Recommend
---
Others Also Bought